Capacitive Touch Screen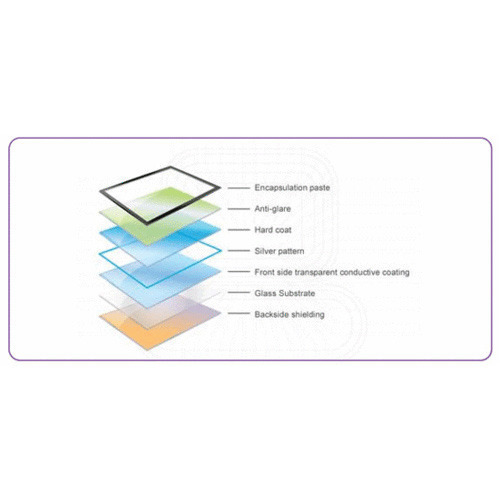 Capacitive Touch Screen
Product Description
Capacitve Touch Screens & Integrated Touch Monitors are used for Public Access Kiosk, ATM applications etc.

With Superior specs. such as: surface scratch hardness of 9H, durability over 300 million touches life, high light transmission rate of 93%, narrow border for easy integration, compact size touch controller board designed to fit inside all LCD displays.

Widest range of Driver support - Windows Vista, 95, 98, ME, 2000, NT4, XP, CE, CE.net, (CPU: X86, ARM, V4/V4i, SH 3/4), Linux (RedHat 9.0, Mandrake 9.2, SuSE 9.0, Yellow Dog 3.x and Fedora Core 2), DOS, iMac (OS9/X), API supported.

Our Capacitive sensors are pin to pin compatible for drop in replacement with other brands and come with a 5 years warranty.
SPECIFICATIONSCONTROLLER
Operating Temperature : 0oC to 65oC degrees centigrade
Storage temperature : -40oC to 80 oC degrees centigrade
Humidity : 95% at 60 C Centigrade
Form Factor (W * L) : General size (62mm x 33mm )
Power Input : 5V for RS232 / USB
Driver : Windows 95/ 98/ ME/ NT4/ 2000/ XP/ XP Tablet PC Edition,
Windows CE 2.12/ 3.0/ .net/ 5.0, MS DOS, Linux(Kernel 2.6), iMac 9.0/OS X
ESD : Air 16KVA; Contact 8KVA (contact discharge to screen)
Regulatory : FCC B, CE
Seal Ability : Nema Sealable
SENSOR
Category : Capacitive
Controller Interface : RS-232/USB
Input Method : Finger
Avaliable Size : 6.4" to 21" Diagonal
Glass Thickness : 1.8mm/2.8mm (Glass only, not included tail connection)
Accuracy : 1.0% based on the diagonal dimension of the screen
Resolution : Max. to 2048 X 2048
Light Transmission : 92 2% per ASTM D1003
Operating Temperature : -15oC to 70oC
Storage Temperature : -40oC to 85oC
Humidity : MAX 90%RH(non-condensing) up to 60oC
Chemical Resistance : Resistance to chemicals that don't affect panel per ASTM-D-1308-87(1993)
and ASTM-F-1958-95.
Application : Outdoor /Indoor application
Adhesion : Withstands cross-cut tester without deteriorations per ASTM D3359
Abrasion : Exceeds severe abrasion test per MIL-C-675;
Surface Scratch Hardness : Can withstand more than 9H per ASTM-D3363
Surface Durability : Withstands over 300 million touches without noticeable degradation
Contact Us
No.32, Muneshwara B-Block, Mattadahalli R.T. Nagar Post, Bengaluru, Karnataka, 560032, India
Phone :+918037744802